Aquarium Interior:
Submarine Adventure
Step right up for aquatic fun that you won't find anywhere else. Have your photo taken with a larger-than-life Giant Pacific Octopus on the Boardwalk, and see a real one too! Inside, stroll down the boardwalk and explore ten zones of fish & fun. Sea you soon!
Journey Through The Waters Tunnel
Surround yourself with the sea as you walk through a tunnel right in the heart of the Aquarium and into a sunken ancient city. You'll be thrilled with sightings of a variety of sharks and all kinds of uniquely-striped and patterned fish as they swim circles all around you.
Celebrate the boundless beauty of the moon jelly in the most unique way… in the Branson Aquarium's Jelly Infinity Room. These bioluminescent beings are amazing to watch and even more incredible when you experience them glowing all around you in a color-changing environment that you control!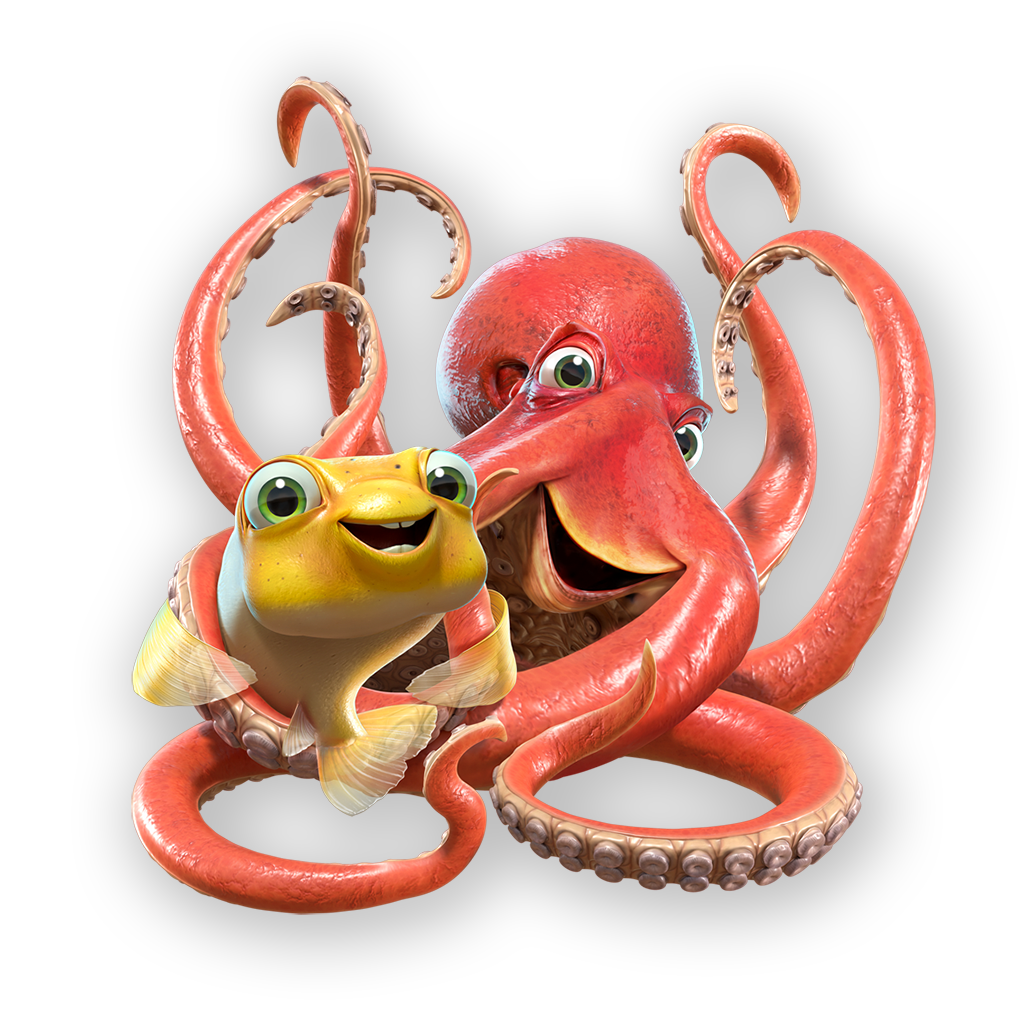 Eight-armed hugs and fish kisses from Aquarius the Octopus and Finn the Puffer Fish! Aquarius is a Giant Pacific Octopus and like all octopuses is a camouflage king! He'll be hiding in nine places as you wind your way through the aquarium. Keep your eyes open and see how many you can find! Finn is a young, adventurous Golden Puffer with lots of energy. Her ability to use her puffing power keeps this little gal safe in the ocean.
FISH AND FUN WITH FAMILY AND FRIENDS
If you're diving in to get answers to your questions about the aquarium, we're shore going to try to help! Click on the topic you're curious about to learn more.
Discover a magical underwater Palace where heroic Mermaids safeguard the ocean's coral reefs, and you can become an honorary member! Their lovely fortress features two fun photo ops for wanna-be Mermaids and Mermen to flaunt their tails. Plus, take in the mesmerizing sight of thousands of schooling sardines and hundreds of tiny seahorses.
Look above your head and across the horizon to appreciate the gliding, diving beauty of stingrays in your own undersea observation station. Delight in an amazing photo op where your youngster pops up in the tank, getting delightfully close to bottom-dwelling Blue Dot stingrays and "winged" Sea Robins.
Get a vast view of a gorgeous coral reef, teeming with tropical marine life. At this Branson Aquarium, you'll marvel at the array of Angelfish, Batfish, Tangs, and many other species in their brilliant colors… and catch a final glimpse of the sharks and rays that come gliding through.
Now's your chance to dip your fingers into the cool water and feel the bumpy lumpy Horseshoe Crabs, sandpapery Cownose Rays, and smooth from head-to-tail but coarse from tail-to-head Bamboo Sharks. You'll be charmed by this opportunity to make new fish friends and get to know about their habits and habitats.
Take home a greater awareness about, appreciation of, and inspiration to care for our earth's coral reefs. You'll see representations of gorgeous coral habitats along with live corals living harmoniously with our other marine animals. Discover the Kenya Tree coral, Button Polyps, Ricordea Mushroom corals, and more! Find out the many ways Aquarium at the Boardwalk is helping to support coral restoration efforts and how you can help!
Check out our social media posts for the latest news on who and what's making a splash at the Aquarium.